12 Main Keeps of
Japanese Castles
Launch date:2016/12/08  

Beautiful towers are a hallmark of Japanese castles built prior to the Edo era. But in the present day, only 12 of these castles with towers yet remain.
Did you know? In this article, we will introduce and profile these valuable towered castles, using Infographics.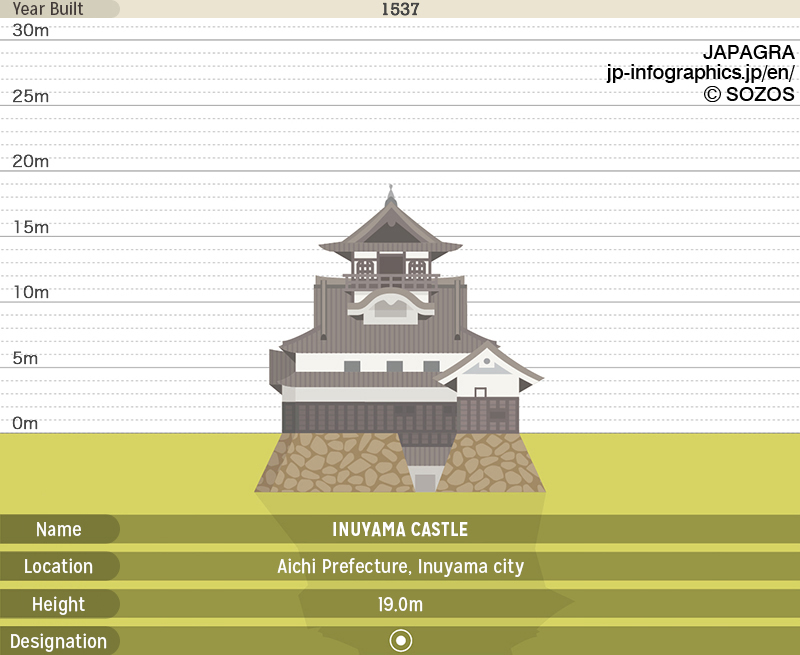 Inuyama Castle is one of Japan's National Treasures, located in Inuyama city, Aichi prefecture. This castle was center stage of the Komaki Nagakute war, and built by Oda Nobuyasu, uncle of the famous Oda Nobunaga, in 1537, during the Muromachi era. The height of this castle tower is about 19m (62 ft) , and this castle is of the oldest style. This castle is on the mountain facing the Kiso river, sporting a beautiful silhouette. There is also a magnificent view from the castle.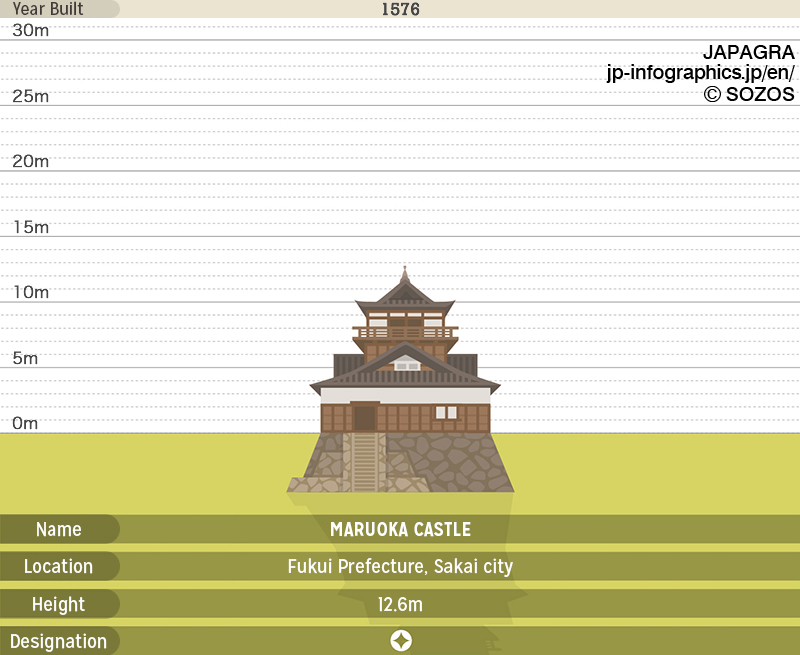 Maruoka Castle is in Maruoka-cho of Sakai City, Fukui prefecture. This castle was built by Shibata Katsutoyo, a nephew of Shibata Katsuie, in 1576. The castle tower stands about 12.6m (41 ft). The roofing tiles made of stone, for purposes of weatherization, which was very rare among Japanese castles. This place is also considered one of the top 100 famous sites to view cherry blossoms, appreciating Spring in full bloom.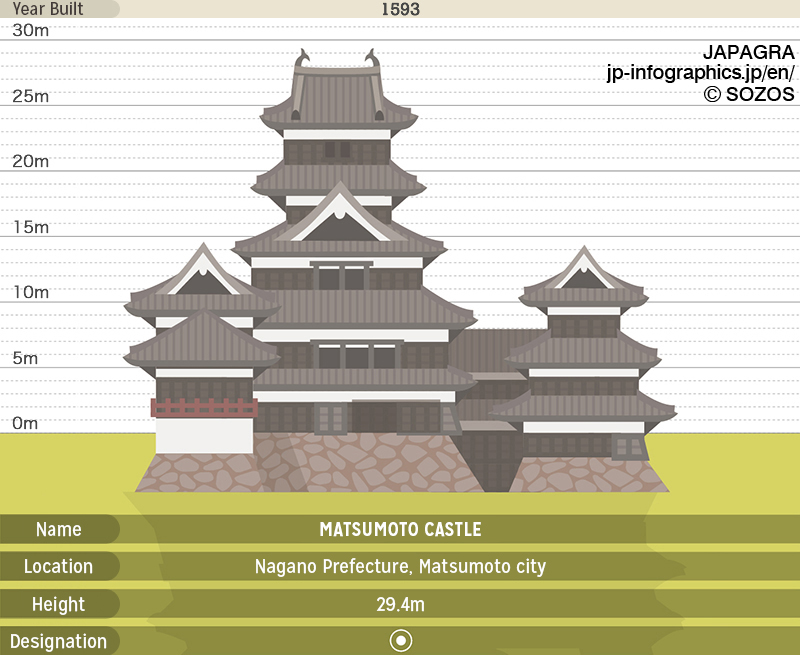 Matsumoto Castle, listed as one of Japan's National Treasures, is located in Matsumoto City of Nagano prefecture. It was built towards the end of Japan's Warring States period in 1593, accounting for the castle's exterior being jet black-colored. Also, there are 115 small windows for bows and guns. This is the only castle featuring both a tower from the Warring States period alongside a turret, later constructed in the Edo era.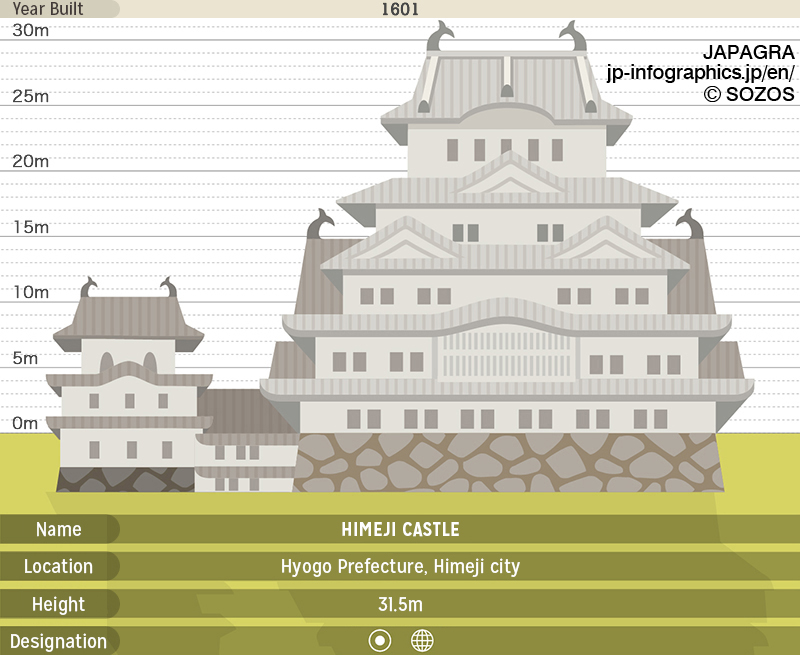 Himeji Castle is one of Japan's National Treasures, and also a World Heritage Site. This is the most famous castle in all of Japan, found in Himeji City, Hyogo prefecture. The large and small castle towers resemble the open the wings of a white heron, earning it the nickname, Shirasagi Castle. This castle had major repairs done recently, restoring it to its former glory and dazzling beauty.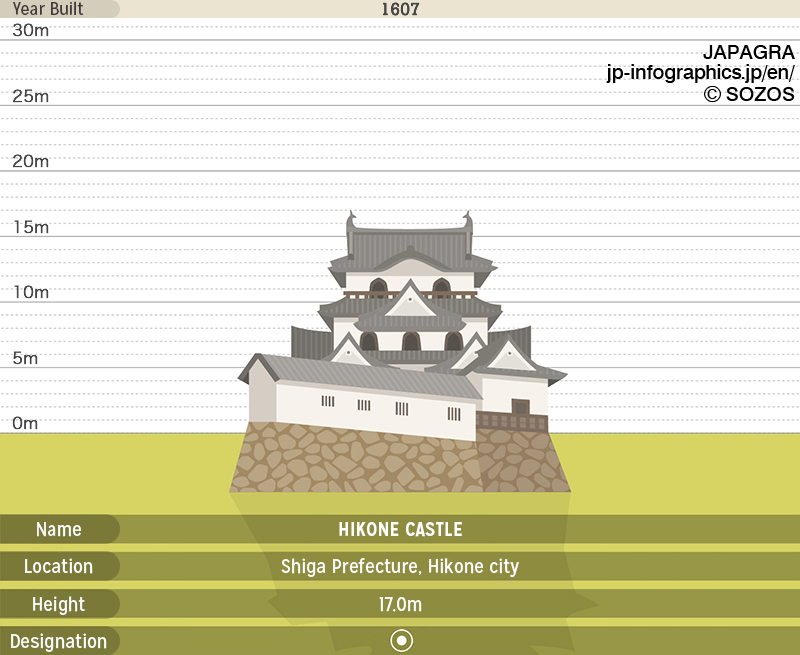 Hikone Castle is also one of Japan's National Treasures located in Hikone City, Shiga prefecture. The castle tower's height is about 17m (56 ft), and was constructed in approximately 1607. The Tokugawa shogunate funded 12 feudal lords to construct this castle for the purpose of intimidating the former Shogun Toyotomi. For generations, this castle belonged to the federal lord Ii of Hikone domain. Naosuke Ii, who later rose to highest post of the Edo government, was born in this castle.
Matsue Castle became a 5th National Treasure in 2015, and is found in Matsue City, Shimane prefecture. It was constructed in 1611, the height of castle tower is 22.4m (73 ft). The castle is protected by a moat and high, black walls, the same as when originally constructed. We recommend experiencing the sightseeing tour by boat. There is also much to see, walking through the adjoining town.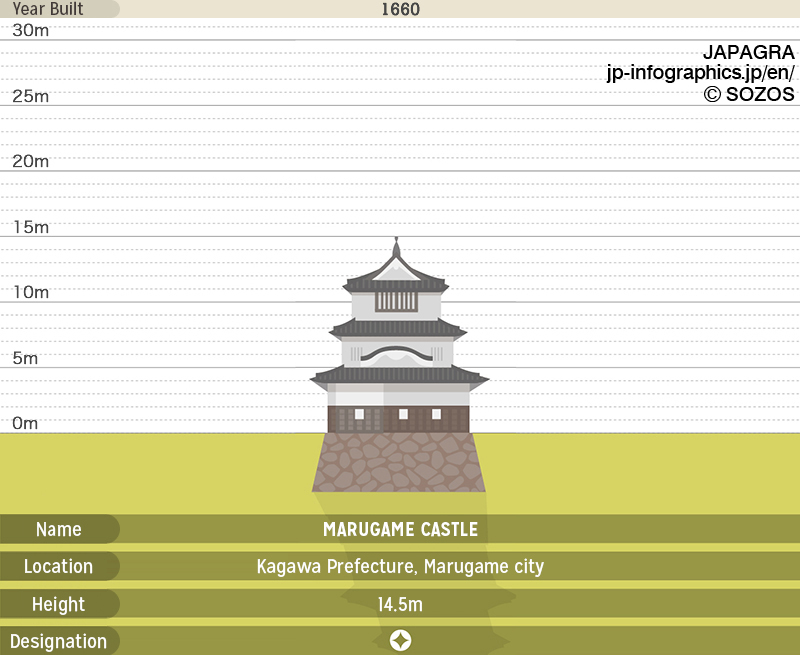 Marugame castle is in Marugame City, Kagawa prefecture. The castle tower was constructed in 1660, with a height is 14.5m (46 ft), which itself may not be so high, but it was built upon the highest stone wall (60m (197 ft)) in all of Japan. The form of castle is truly majestic, and it is also famous for retaining its wooden castle tower, which is now quite rare in Japan.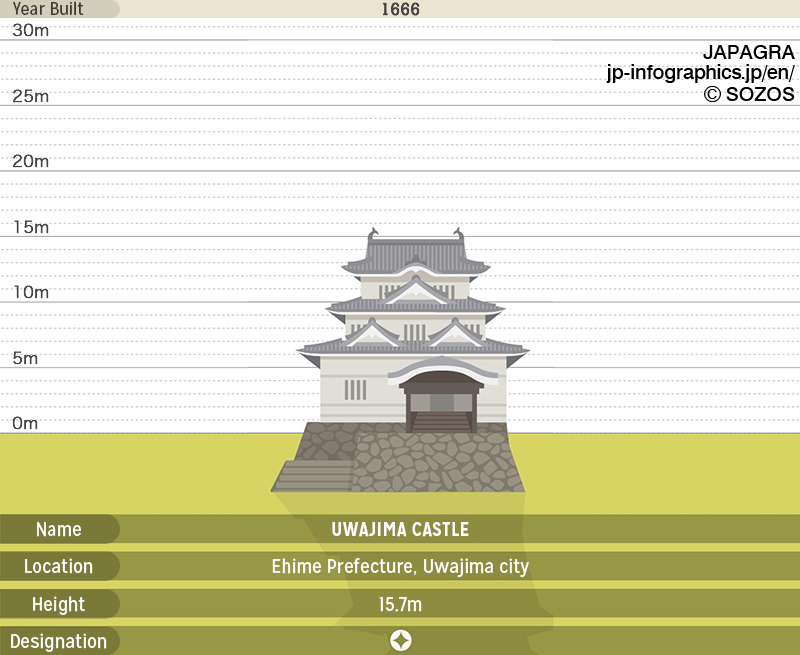 Uwajima castle is located in Uwajima City of Ehime prefecture. Takatora Toudou built the castle tower in this town in 1601. It was rebuilt in 1666 to be 15.7m (51 ft). There are many plants preserved from 300 years ago on the castle hill; it feels so nice to walk around this place.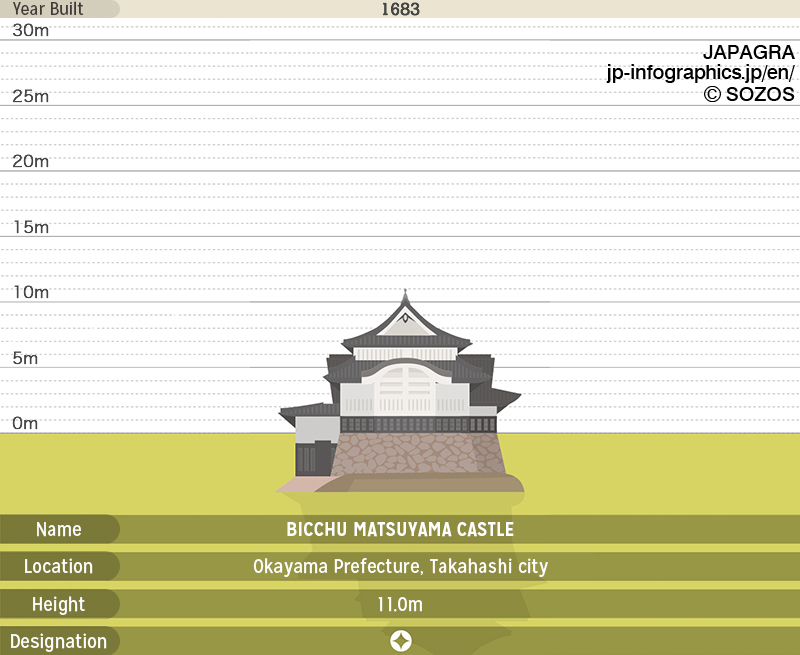 Bicchu matsuyama Castle tower in Takahashi City, Okayama prefecture was constructed around 1683. Its height is 11m (36 ft) making this the smallest one, but it is unique in being the only the castle built upon a mountain top, its elevation being 430m (1410ft). From Fall to Spring, under good conditions, you can witness a sea of clouds and the imposing spectacle of the castle from a nearby observation platform.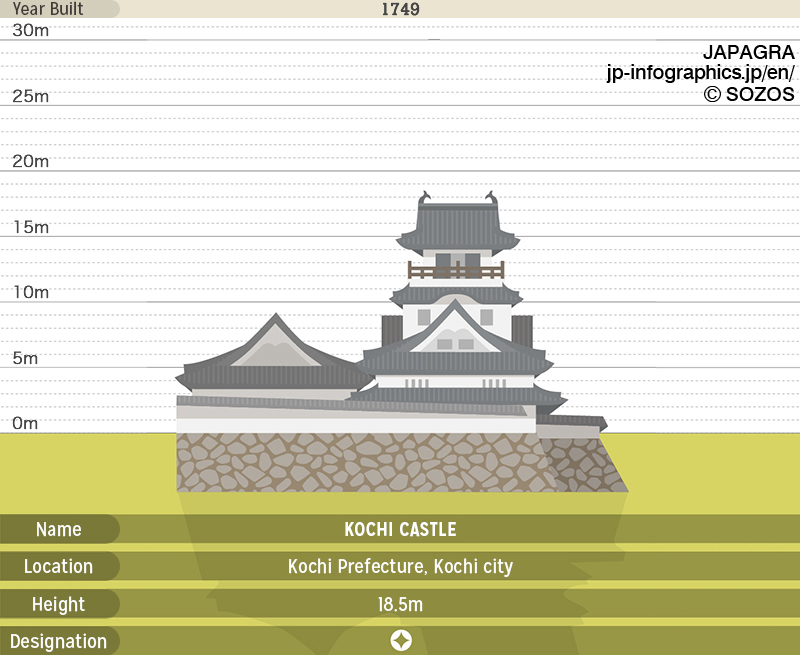 Kochi Castle which is in Kochi City, Kochi prefecture, was constructed in 1611 by Kazutoyo Yamauchi, who is famous for the support he received from his wife in his rise to greatness. The castle tower was burned in a fire, and rebuilt in 1749. You can see the entirety of the city from the castle tower, the height of which is 18.5m (60 ft). Also, you can see famous landmark, the Ote-mon gate of Honmaru palace.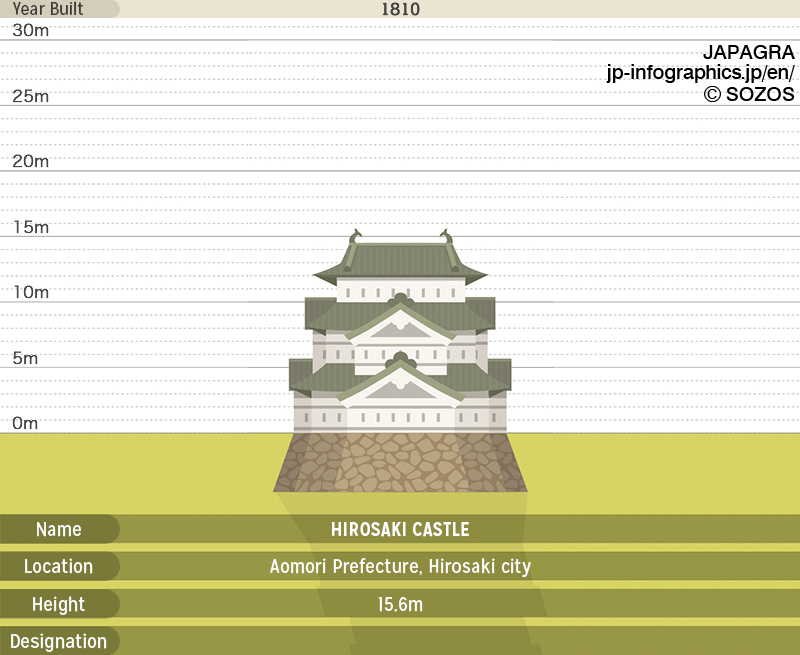 Hirosaki Castle in Hirosaki City of Aomori prefecture is The northernmost castle tower in the country. It was built in 1611, but was struck by lightning and burned down. After that, a turret was constructed, called 'Gosangai', and it became the castle tower. This is also famous site to view cherry blossoms. Since August 2015, work began to repair the stone wall after 100 years. At present, you can see the restoration of the stone wall, with the castle itself moved for the construction.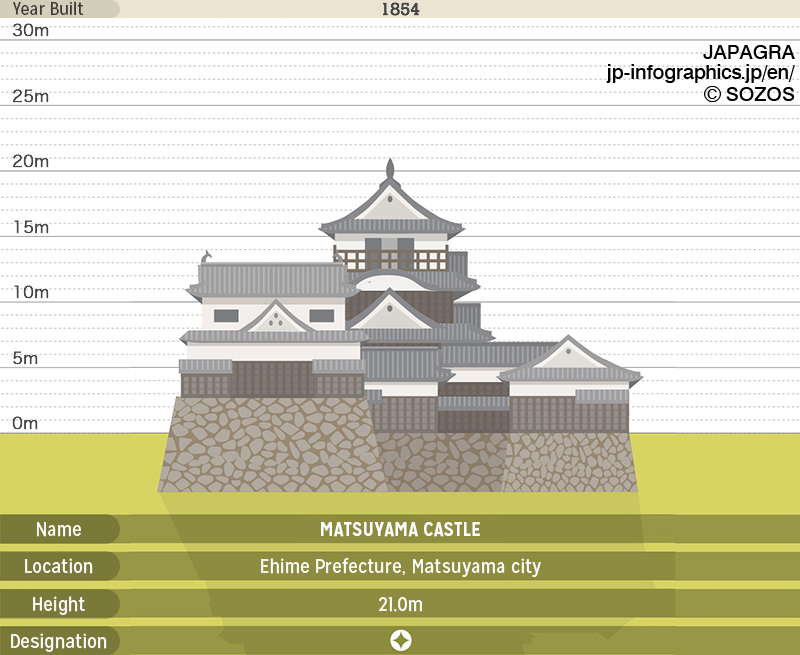 Matsuyama castle in Matsuyama City, Ehime prefecture, has a trademark of the Aoi-no-Gomon (the family crest using front sides of three leaves of Hollyhock), denoting its resident as a relative of the Shogun. The original castle was struck by lightning and burned in the resulting fire. The following year, 1854, a new castle tower was constructed, the height of which is 21m (69 ft). That same year, foreign ships first appeared in Japan. This is the final castle tower to be constructed in Japan. The twenty-one buildings of this castle, including the tower, represent an important cultural legacy. The castle is atop a mountain, and can be reached by use of a ropeway.
Let's visit these 12 castles and learn more about them!
Recently, Japanese castles have become very popular with foreign tourists. Even a single stone of a great castle wall is imbued with the wisdom and spirit of the people who lived in that era, and it is interesting to imagine the life the people at the time lived in those castles. It is also quite enjoyable to walk around the towns which usually surround them. Please enjoy visiting and experiencing these castles!

Sources
Irasuto Zukai Shiro (Nitto Shoin Honsha)
Each Castle's Official Website

*All rights to this graphic belong to SOZOS Inc. Transfer, duplication, reprinting, falsification, publishing, and other forms of use of this graphic without the approval of SOZOS Inc. shall be prohibited.


<!-記事制作ここから-->
Articles

Editorial department of JAPAGRA
Message from the Editorial department of JAPAGRA. Here is some in-depth information about Japanese culture that you may not have known. <!-記事制作ここまで-->