Various Places to
Find Ramen
Launch date:2016/12/08  

Ramen is a food universally loved by all Japanese citizens, first appearing in the chinatowns of Japanese seaports around 1870. Since then, Japanese Ramen has extended to all corners of the country, and there are countless kinds of Ramen with unique local characteristics. In this article, we introduce these special Ramen dishes using Infographics.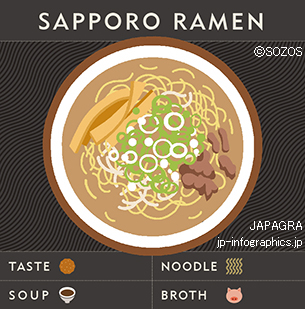 Sapporo Ramen uses soybean paste, and a soup based on pork bone and pork meat stock with rich miso paste. The wavy noodles catch the soup well, and it is this combination that attracts diners. Sapporo Ramen uses lard to keep the soup and noodles hot, so you can enjoy the meal all the way through. The ingredients include vegetables like green onions, bean sprouts, and so on. We recommend the famous Ramen restaurants 'Sumire' and 'Saimi'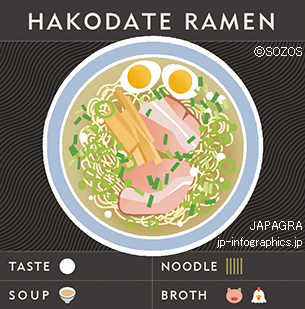 The special feature of Hakodate Ramen is a beautiful clear broth made from pork bone, pork meat, and chicken bones with a salt based sauce. The noodles are soft, of medium thickness, and straight. It is simple, but with a deep taste that brings people back again and again. The ingredients include roasted pork fillets and bamboo shoots. We suggest the famous Ramen restaurant 'Ajisai'. There are many other good places around, so be sure to try some of them!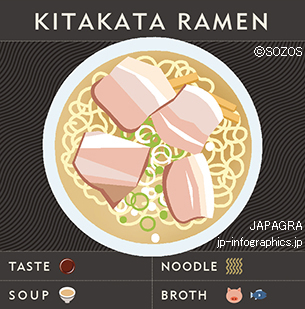 Kitakata Ramen is very famous around Kitakata city in Fukushima prefecture. The soup is made by pork bones, small dried sardines, and soy sauce. The soup's flavor is simple, and fits with the 4mm wide, thick, wavy noodles. The ingredients used are bamboo shoots, roasted pork fillets, and green onions. The long-established restaurant, 'Bannai' has shops all over Japan, so it is easy to try the authentic taste of this Ramen.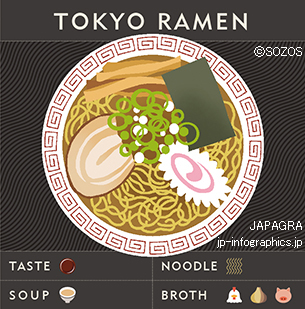 Tokyo ramen is said to have been made for the first time in "Rai rai ken" which was founded in Asakusa in 1910. It is a representative Japanese noodle characterized by soup with soy sauce taste mixed with soup of chicken, thin wavy noodle. You can taste this traditional noodle with "Harukiya" etc.
The defining characteristic of Yokohama Ramen is a really thick broth made from pork bones, chicken bones, and pork bone soy sauce. The noodles are wide and straight, so they really fit with the thick soup. The other main ingredient is seaweed. You can chose hard or soft noodles, the amount of oil you need, and the thickness of the soup. You can try these noodles at the long-established 'Yoshimuraya' chain of ramen shops.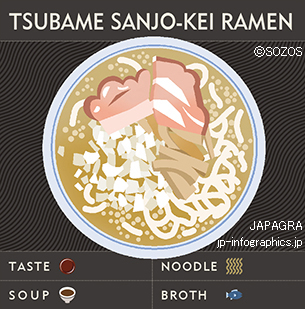 Tsubame Sanjo-kei Ramen Ramen comes from Sanjo city, Niigata prefecture. The soup is made with small, dried sardines and soy sauce with pork fatback. It is famous for its really thick flavor. The noodles are wavy, and thick like Udon. The other main ingredient is chopped onion, which really go well with this Ramen. You can enjoy this at the famous restaurant, 'Kosyu Hanten'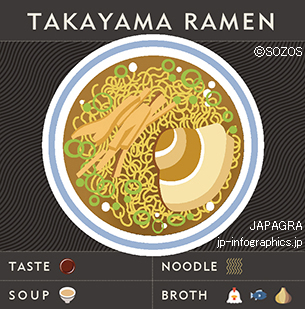 Takayama Ramen's distinctive characteristic is how its soup is made. They boil chicken bones, small, dried sardines, vegetables, and soy sauce together. It looks really thick, but the flavor is thin and tasty. The noodles are thin, wavy, and match well with the ingredients, which are green onions and roasted pork fillets. The restaurant 'Menya Shirakawa' is famous by word of mouth, and Takayama City has many other shops where you can enjoy this ramen.
Wakayama Ramen (Pork Bones and Soy Broth Type)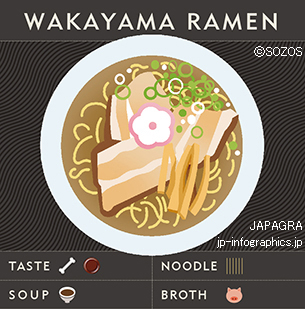 Wakayama Ramen has two styles, one of which is a soy sauce type, and another with pork bones and soy broth. In Japan, the version with pork bones and soy broth is more common. The basic soup is made by boiling pork bones until the water becomes cloudy, then adding pork bones and soy sauce , serving with thin, straight noodles. According to the Wakayama City Tourism Association, at the ramen restaurants in Wakayama, there are boiled eggs and mackerel pressed sushi on the tables, which you can eat as much of as you want. Try it at the famous restaurants 'Ideshouten' and 'Marusan'

Tokushima Ramen (Brown Type)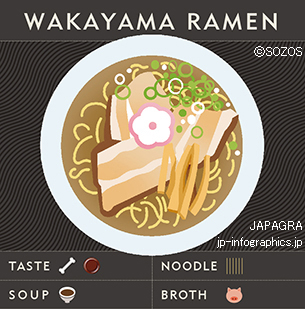 Tokushima Ramen has three varieties of soup, which are brown, yellow, and white; the brown style being most famous in Japan. The thick, salty-sweet soup is a broth of pork bones with thick soy sauce added, and it's the best fit with the medium-thick noodles. The other ingredients are raw egg and roasted pork fillets. For Tokushima locals, ramen is a dish that goes with rice. 'Inotani'is one of the famous local Ramen restaurants.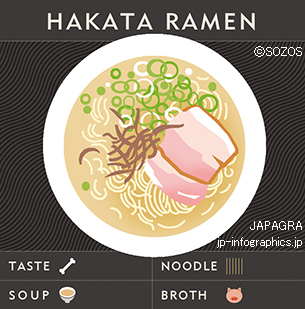 Hakata Ramen has a white broth made from pork bones, thin soy sauce, and a salty sauce. The noodles are thin and straight, and you can choose their toughness. Also, you can order extra noodles for your leftover broth, and this is a special custom of Hakata Ramen. The ingredients are roasted pork fillets, green onions, and cloud ear mushrooms. You can enjoy this ramen at 'Hakata Ippudo'which has locations all around the world.

Explore the various styles of ramen in Japan, and find your favorite!
All of these unique ramen dishes are representative of Japan. Some of them can be found all over Japan, and there are some places where collect those Ramen shops. Also, they have event at a lot of places. Please use this site to find best place for you!

Sources
Nihon Ramen Hishi (Nihon Kezai Shinbun Shuppansha)
Ramen (Wikipedia) http://ja.wikipedia.org/

*All rights to this graphic belong to SOZOS Inc. Transfer, duplication, reprinting, falsification, publishing, and other forms of use of this graphic without the approval of SOZOS Inc. shall be prohibited.


<!-記事制作ここから-->
Articles

JAPAGRA Editorial Department
Message from the Editorial department of JAPAGRA. Here is some in-depth information about Japanese culture that you may not have known. <!-記事制作ここまで-->