How to Visit Japan's
World Heritage Sites
Launch date:2016/12/08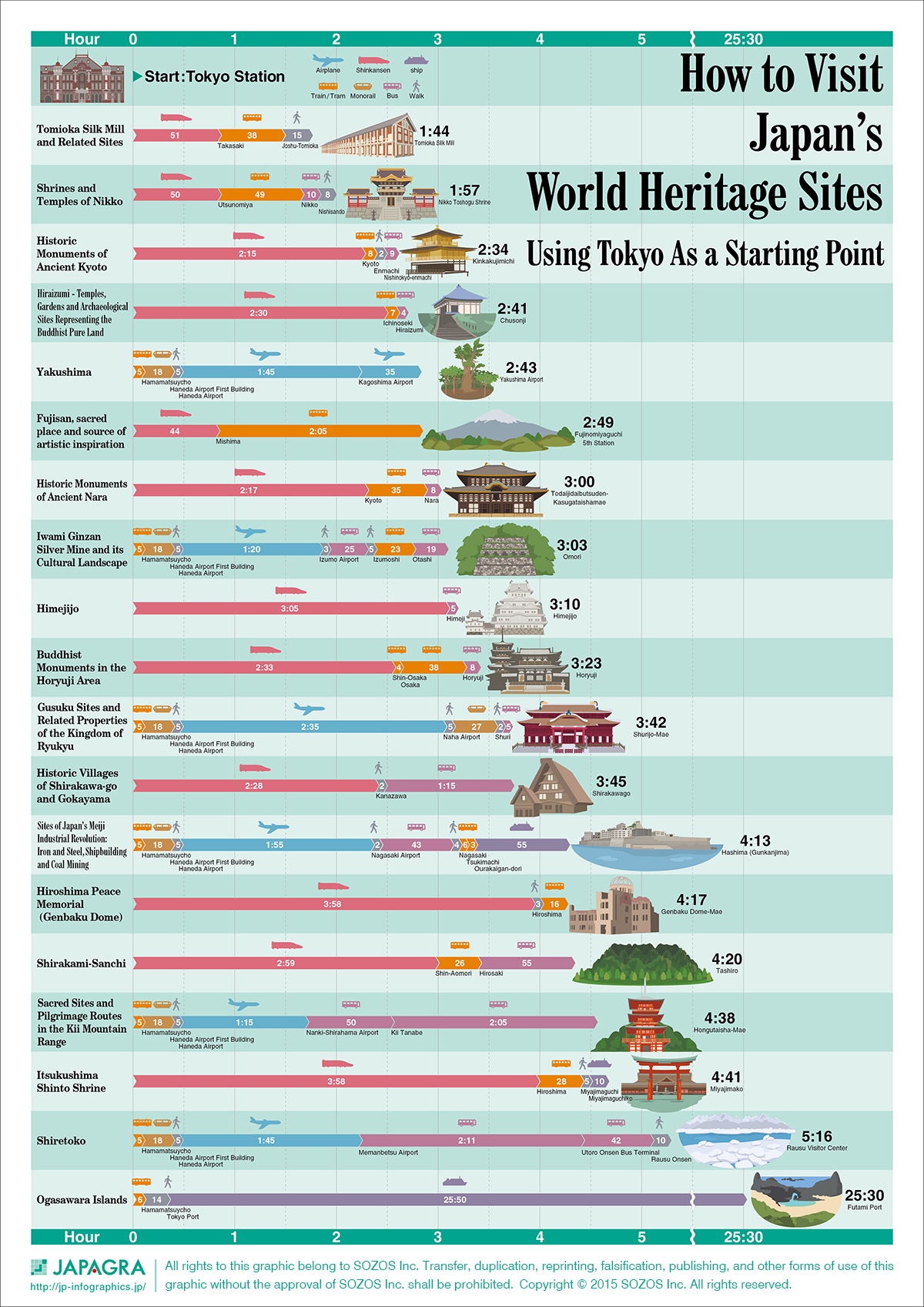 There are 19 World Heritage sites in Japan, from Hokkaido in the north to Okinawa in the south. If you wanted visit those places, how long would it take? In this article, we've created Info Graphics charting travel times from Tokyo station to 19 World Heritage sites.
Travel time of about 1 hour

These places are in the Kanto area, therefore, it takes roughly 1hour to get there by Shinkansen, train, and bus. We can visit 2 places at the same day if we get up early.
Travel time of about 2 hours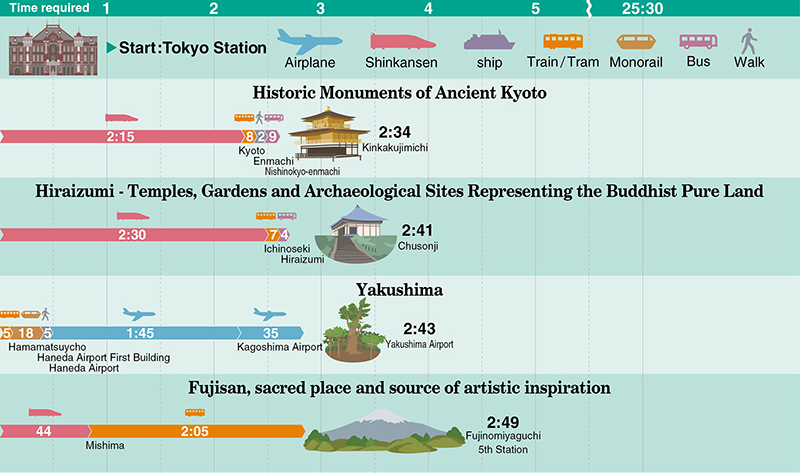 These are sites we can reach in roughly 2 hours. Our impression is that Yakushima seems far from Tokyo station, but it is closer than we think.
Travel time of about 3 hours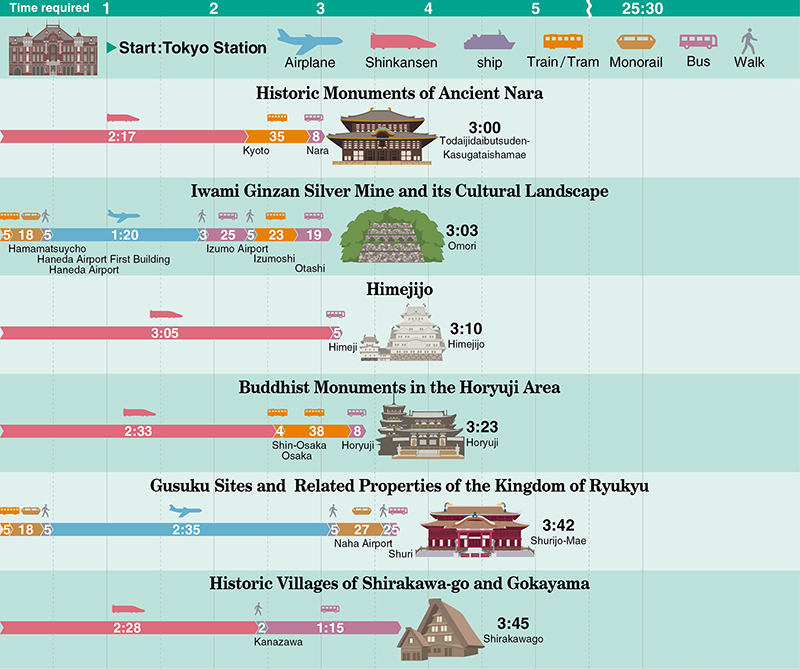 These are 6 places we can arrive at in about 3 hours. Shirakawago, which is in Gifu prefecture, is now easily reachable because of the Hokuriku Shinkansen.
Travel time of about 4 hours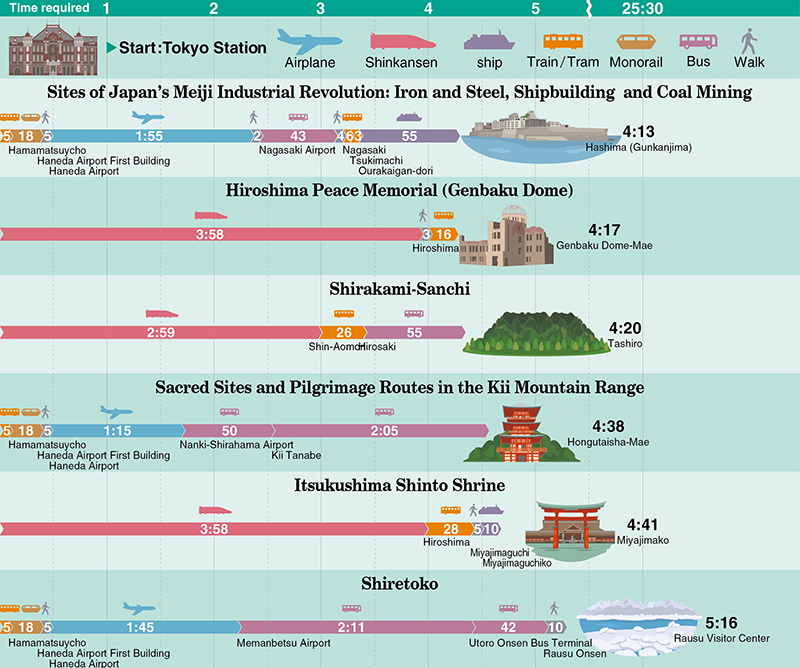 These are 5 places we can reach in about 4 hours. Please use ferryboat of travel agency to visit Gunkanjima in Nagasaki prefecture.
Travel time of about 5 hours

北From Tokyo, it takes about 5 hours to get to Shiretoko in Hokkaido. But part of the trip involves taking a bus which leaves Memanbetsu airport in Hokkaido to Shiretoko around 9:00 am, so we'd better leave Tokyo early in the morning.
Furthest world heritage site of Japan from Tokyo

The Ogasawara islands are very far away from Tokyo station. These islands don't have an airport, so we have to use a boat called "Ogasawaramaru" which visits these islands once a week. It takes about 25 hours from Tokyo to Chichijima. The boat stays there for 3 days before returning to Tokyo. That is why the trip becomes six days and five nights.
Let's visit World Heritage sites in Japan!
In this article, we measure the hours needed to visit each World Heritage site in Japan. Some places are very easy to visit, but others are a bit harder to reach. Please visit the places that catch your interest.

Sources
Yahoo! Rosen Joho
Note: 1.Time in transit, not including transfers. 2. In cases where difference of travel time between land and air is less than one hour, priority has been given to travel by land.

*All rights to this graphic belong to SOZOS Inc. Transfer, duplication, reprinting, falsification, publishing, and other forms of use of this graphic without the approval of SOZOS Inc. shall be prohibited.


<!-記事制作ここから-->
Articles

Editorial department of JAPAGRA
Message from the Editorial department of JAPAGRA. Here is some in-depth information about Japanese culture that you may not have known. <!-記事制作ここまで-->